… has fun together!
I've wanted to make an outside garden and play area for our little family for ages. The place we are staying now has a space that works well for this. I decided not to plant a garden in the ground (just in case we move house again). Some of our seedlings still spend much of their time indoors but hopefully everything will be thriving back here very soon…
An old fence gate set on an old broken dresser and a large discarded tree stump make for nice child size work and play tables. The sweet mint and flowers picked from the yard brighten up the rustic spot table. I donated a few old pans for all sorts of fun pretend play.
Ingredients for pies or cupcakes: sand (suger, Skye says!), pinecones and stones.
Here is a bucket for the making of mud and the washing of little hands…
I reckon this is where we'll be spending the summer now that the parks will be overrun with big kids… plus mama can stay in her pajamas when we all go out to play if she wants to ;)
You can find a great compilation of Montessori inspired outside areas and much more here at Living Montessori Now. Cheers Deb!
Happy outdoor days to you!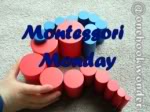 updates in may here :)